Paul Kiritsis, MD – Knee and Shoulder Specialist – Orthopedic Surgery
Orthopedic Surgeon in Richmond VA
Dr. Kiritsis is a board-certified orthopedic surgeon who also holds a subspecialty certification in sports medicine. He is the Head Team Physician for the University of Richmond and the Richmond Kickers.  He has extensive experience in the treatment of both athletic and degenerative knee and shoulder disorders. His expertise has provided him the opportunity to teach numerous courses and instructional labs to other orthopedic surgeons across the US as well as hosting surgeons from around the world. As a member of the Zimmer-Biomet International Faculty, surgeons from across the globe come to Richmond looking to expand their orthopedic knowledge and surgical techniques. We encourage you to review his accomplishments and are confident that you will trust him with your care.
Hit Your Peak Performance! Get in Touch Today
Dr. Kiritsis is a board-certified orthopedic surgeon who is one of a few orthopedic surgeons in the Richmond Virginia area to hold a subspecialty certification in sports medicine.
Schedule an online appointment or call us today at (804) 379-2414
Make an Appointment
Sports Medicine | Shoulder Injury | Knee Injury
Whether you're an all-star athlete, a weekend warrior, or a sporadic sports buff, we want you to hit your stride at peak performance. If a knee or shoulder disorder is holding you back, there's a good chance it can be corrected.
Patients who visit Dr. Kiritsis have typically exhausted most general medical avenues and need a specialist for treatment of a complex or recurring problem. They want to improve their function and quality of life with the least invasive and most conservative approach that provides the best outcome. We share this mindset. Our clinic offers a one-stop approach to orthopedic care that includes the latest techniques and treatments, state-of-the-art diagnostic services, timely appointments, and a variety of insurance options.
When you're in our office, you're the most important person there, and we'll do everything we can to make your visit as pleasant as possible. Our goal is to give you the best medical treatment and the best patient experience.
---
---
ACL Injuries in Female Athletes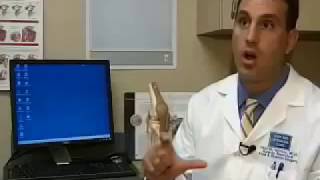 ---
Click here to watch other Dr. Kiritsis TV appearances